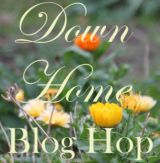 Welcome to another week of our Down Home Blog Hop. What a week we have had here at Tilly's Nest! As many of you know, we live on Cape Cod. We are a small man-made island that juts out into the Atlantic Ocean about an hour from Boston, Massachusetts. The Cape is traditionally a windy place, but with the combination of Sandy and trees still in the process of dropping their leaves, it made a bad situation even worse. Over the past two days, we were pelted with rain and wind gusts over 80 miles per hour. The power did not last long. In no time we were sitting around playing board games, reading and spending quality family time while the winds whistled and the trees swayed dangerously to and fro.
The chickens were locked in their coop and allowed to come out as they usually do during the day. Hurricane Irene had not fazed them last year. Before Irene, I covered and secured thick plastic sheeting to their outside run. The day before, I filled up the coop's waterer and feeder to the top. As the wind whipped, I could see the chickens happily flitting back and forth; unfazed by the storm. Even Fifi and Dolly are still broody and despite the weather, the girls continued to lay their eggs.
Finally around 7 pm or so Monday night, the winds began to die down. Last night, as I tried to sleep, I could hear the rumbling of large utility trucks in the distance. Help had arrived. Soon enough, life would be returning to normal and we would begin the extensive clean-up.
The kids have been off from school for two days and late yesterday afternoon the power returned. I made beef stew for dinner in the crock-pot. Life is returning to normal for us humans. Amazingly, out of everyone, I think the chickens coped the best with the storm. Their simple life is sometimes a good reminder of what we all need to keep focus of in this crazy world where we live-family, faith, safety, shelter, food, water and the company of those we love.
Now it's your turn! Everyone is invited to join in on the fun. Please share chickens, bees, gardening, crafting, homesteading, knitting/sewing, decorating, beekeeping and everything in between! Click the blue "add" below to link-up any post from your blog. It's easy, just enter your post's name, a direct link to the post and a contact email. Click next and select one of the photos from your blog. It's that easy! Don't forget to link back to this blog hop in your post. I can't wait to get caught up with you, friends!