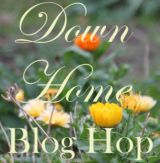 Welcome to another wonderful week of the Down Home Blog Hop! Thank you so much everyone for linking up to the party. It has been incredible and I just enjoy learning and spending time with you all on your blogs.
It's hard to believe that Thanksgiving is just around the corner. Soon enough, we will all take the time to gather with our loved ones around the table and give thanks.
Here are some of my favorite easy affordable ideas to help make your home lovely for the holiday. With a piece of reclaimed wood laid down the center of your table, some Indian corn, hydrangea blossoms, gourds, garden art and candles help set the mood of the harvest and bring the table to life.
Inverting Indian corn in a favorite container instantly adds drama and height.
Fresh hydrangea blossoms and candles set the mood
Stone garden art comes inside to add a touch of whimsy to the table.
Inspired by nature, hydrangea blossoms, Indian corn and gourds take center stage.
Now it's your turn. It's your blog and your adventure and I can't wait to join you.
Photo Credit: Tilly's Nest